Safeguarding & Pastoral Team
The pastoral team at Discovery Academy offers a range of support to the children and families within the Academy. The team is led by Mrs Beverley Oldham.
The pastoral team offer support to all of the staff on attendance and punctuality, safeguarding and child protection issues. Safeguarding includes a number of different aspects all of which we take very seriously here at Discovery Academy. 
The Designated Safeguarding Lead (DSL) is Mrs Beverley Oldham.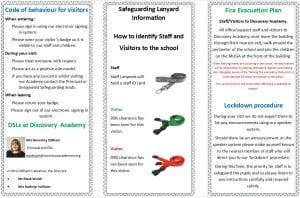 The Deputy DSLs are:
Mr Mark Walsh – Deputy Principal
Mrs Emma Collins – KS1 lead
Mrs Kathryn Sullivan – EYFS lead
Also trained to the level of DSL are a number of support staff who work with children:
Mrs Bentley Dawson – Well-being Mentor
Julie Mayers – SENCo
Every member of the school staff takes an active role in offering support to all children both in and out of the classroom enabling them to maintain positive behaviour and make the most of every learning opportunity.  We can also offer support to families who are experiencing difficulties through providing information about local services and groups.
Promoting good attendance and punctuality is a key role of the pastoral team.  Children who attend school on time every day make the most of school and achieve best. All children and their families are supported to enable the best attendance possible through our attendance and punctuality procedures.  Where needed, the pastoral team will provide support to families who are unable to meet these high expectations. The attendance lead is Miss Leigh.
We work with all children to build positive mental health and wellbeing and support children to recognise and understand their emotions. All staff are trained in promoting positive mental health. Through a varied range of activities, both individual and group, our teaching assistants work closely with the class teachers to develop children's confidence, emotional well-being and learning behaviours. These are then assessed when looking at children's overall academic progress and areas for development are identified. Our class worry monsters and feelings charts ensure that we are able to help and support children if they have something that is a barrier to them being able to make the most of their leaning that day. Pupils feeling safe, secure and supported, and the extensive support we give to our families and community too, ensures that the whole child is supported to make the best progress.
Our Wellbeing Mentor is Mrs Kat Bentley-Dawson. Mrs Bentley Dawson can be contacted on kbentleydawson@victoriousacademies.org
The team also work with outside organisations such as the NSPCC to promote safety both in and out of school including safe use of the Internet.
At Discovery Academy the safety and well-being of our children is paramount and we are aware that on occasion members of our school community are concerned about children who attend our school and wish to talk to a member of staff.  Please do not hesitate to contact Mrs Oldham either in person or by phone.
Remember we are all here to keep our children safe.

Here is a useful guide for parents should you have any worries or concerns. Download the Tameside Safeguarding Children's Partnership parental handbook https://www.tamesidesafeguardingchildren.org.uk/parentsandcarers/download/parenting-handbook-2020-11.pdf
On 21st January 2019 Discovery Academy is implementing a new project that will run jointly between schools and Greater Manchester Police. This project is called Operation Encompass.  It aims to support children who are affected by domestic violence by ensuring that their school is informed. This allows the school to support the children. 
If you would like any further information or have any questions regarding the work of the pastoral team please come in to the Academy and talk to a member of the team.
Our Safeguarding policy can be found on our policies page.