World Book Day 2021 and Reading week 2021
As the theme for World Book day was kindness, at Discovery Academy each class completed lots of different activities around a book written by Oliver Jeffers exploring themes around kindness and other emotions. Each class had a book that they would explore in a variety of ways over the course of the week helping to support the resettling of those children who had not attended school so far this term due to lockdown.
Nursery – The Way Back Home
Reception – Lost and Found
Year 1 – Up and Down
Year 2 – Stuck
Year 3 – The Great Paper Caper
Year 4 – The Incredible Book Eating Boy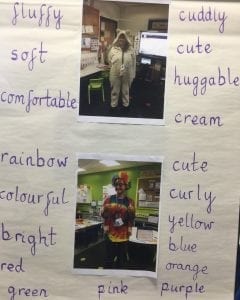 Our reading week started on World Book Day with key worker children in school and other pupils at home creating reading dens and enjoying reading for pleasure. Staff created a photo story to show the children that reading can take place anywhere.
As a school, our focus is enhancing vocabulary and so on Friday 12th, once all the children were back in school, we dressed up as an adjective from our favourite books – a twist on the character idea from previous years. We had some fantastic costumes such as cosy (wearing pyjamas), delighted (dressed up as Little Miss Sunshine), clever (dressed up as Matilda) and then we spent the day completing lots of vocabulary enriched activities to support us when reading vocabulary rich books for pleasure.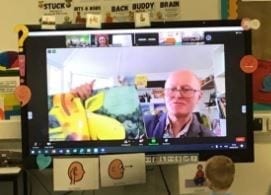 Throughout the week the children have had other enhancement opportunities to promote a love of reading. These have included zoom sessions with famous authors and illustrators such as Tom Palmer, Guy Parker-Rees and Phil Earl in conjunction with Tameside Libraries and our daily Masked Reader competition where staff read their favourite poem and the children had to guess who was behind the mask. There were also games such as Catch Phrase to guess the book from revealing the cover. As part of our Wellbeing Wednesday approach, we have also taken part in reading activities such as Helicopter Stories, where children create collaborative stories through role play, using known texts and orally rehearsing story telling.
We have had a great time celebrating World Book Day 2021 and our English lead Mrs Collins and all the staff and pupils have worked incredibly hard to promote that love of reading.
If you would like to play our Masked Reader game at home you can find videos on Year 2 twitter page.
We were also visited by Tameside reporter who interviewed Mrs Oldham about the day. You can see the report and video here